A Gift For Music hosts several performances throughout the school year. Our performances bring our student musicians together to showcase what they have learned all year! Stay tuned for information on our next exciting performance.
After-School Program Performances
Our after-school violin students get a chance to show off what they have learned twice a year! During their elementary school's winter and spring performances, our students take the stage to demonstrate for their families and friends the techniques, theory, musicianship, and songs that they have worked on throughout the semester!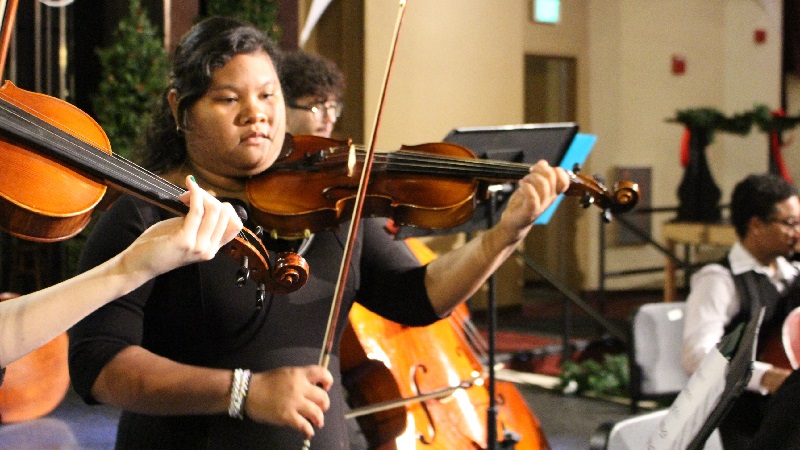 Saturday Strings Orchestra Performances
Our Saturday Strings orchestra performances are a culmination of a semester's worth of rehearsals from our five distinct ensembles. Showcasing the artistry and commitment of our dedicated student musicians, these concerts entertain and delight audiences with a varied musical selection from folk and fiddle tunes to Baroque and Classical favorites.
To stay up to date on concerts, events, and more, please follow us on Facebook.
Musician's Challenge
The Musician's Challenge is an annual concerto competition for A Gift For Music students. The Musician's Challenge is an opportunity for our students to grow as musicians as they practice a challenging solo piece that is performed for a panel of esteemed musicians from our community. The Musician's Challenge winner is awarded a new instrument or bow from Muni Strings and performs their solo piece for an audience!
Play-a-Thon
The Play-a-Thon is A Gift For Music's signature fundraising event. Featuring our students, staff, alumni, and special guests, this is an exciting, annual marathon performance that you don't want to miss!
The 2022 Play-a-Thon Finale Celebration is April 29th from 6pm to 8pm at the Dr. Phillips Academic Commons.  It is an evening filled with music-making by A Gift For Music's Saturday Strings orchestras, After-School Program students, and special guests. The Finale Celebration also features a signature bucket auction, a selection of wines, and delectable bites!
To purchase your Play-a-Thon Finale Celebration ticket, click here!